Our readers keep Freebirders free. We may receive a commission, at zero cost to you, for links to products we carefully review
If you are a brand-new birder, chances are you're going to need some gear. Of all the gear needed, binoculars are arguably the most important, as they allow you to see both near and far, with great detail. The wide variety of options when it comes to binoculars can be distressing.
With binoculars, there are many options concerning the various brands, sizes, and features offered. One of the biggest worries people have when choosing binoculars is deciding what brand to buy, as nowadays, almost all brands are of very good quality. No need to worry, as this guide will help you pick the right option for you. Keep reading for a brand-by-brand guide to binoculars.
In this Guide:
Nikon
Everyone has heard of Nikon. Whether you think of cameras, rangefinders, scopes, or binoculars, Nikon does it all. Most Nikon optics are made in Japan. With this wide variety of products comes excellent quality and craftsmanship. If you're looking for beginner level binoculars Nikon has you covered with their Aculon line of binoculars. These will run about $150, up to $200, depending on what model you get. If you're looking to spend a little more and buy some high-grade binoculars, consider the Monarch line. These run anywhere from $275 to $500, depending on the model. Both of these binoculars are made for birders who are looking to spend a little more and receive more quality from their binoculars.
Pros and cons of Nikon are relatively cut and dry, based on user reviews. Advantages are competitive pricing, all of the accessories you receive (lens pen, cleaning cloth), and crisp and clear images. One of the only disadvantages to be found is that some binoculars received didn't have a nice coating, as it was uneven and had seams on it. Overall, Nikon binoculars are excellent for both beginning and veteran bird-watchers.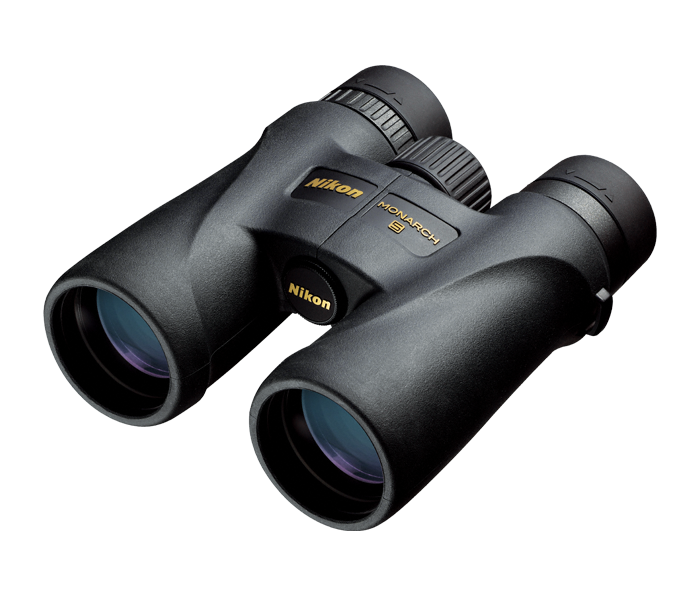 Nikon Monarch 5
Celestron
Celestron makes a wide variety of binoculars, fulfilling everyone's binocular needs in one way or another. Celestron excels in making high-quality, low-priced optics. If you are just wanting to try out bird-watching without making a big initial investment, consider buying Celestron. Just because Celestron binoculars are made in China does not mean they are not good. These binoculars will last you a long time, especially for the low initial investment you put forth. It appears that you can buy Celestron binoculars for as low as $50 on up to $200, again depending on what you want out of your optic.
Celestron appears to have satisfied many customers with one of their cheapest models of binoculars! This is no easy feat, as people often expect way more than what they spend on products. Among the advantages of Celestron binoculars are an excellent waterproof finish, sharp, clear lenses, and perfect focusing and diopter knobs. Some disadvantages mentioned by customers are that they are a little on the heavy side, sometimes images are dark, and sometimes it can be hard to adjust to the perfect focus. All in all, anyone looking to make a small investment for a good pair of binoculars should strongly consider Celestron.
Celestron DX Nature 8×42
Vortex
If you are a bird-watcher who wants to have high-quality binoculars that are assembled in America with parts from various places, consider buying a Vortex. Vortex is like many other optics manufacturers, in that it makes several different varieties of binoculars based on budget and quality level. Luckily for bird-watching beginners, Vortex makes lower budget options available. The Vortex Crossfire binoculars are priced at right under $150 and will serve you well for many years to come. Vortex Crossfire binoculars are made for the bird-watcher who wants a lot of features for a low price.
Based on user reviews, there are many advantages to the Vortex Crossfire. Some pros are outstanding clarity, strong and durable fit and finish, and amazing low light capabilities. Some cons are the length of the design and a short field of depth. Overall, Vortex binoculars get the job done right, without being priced far too high.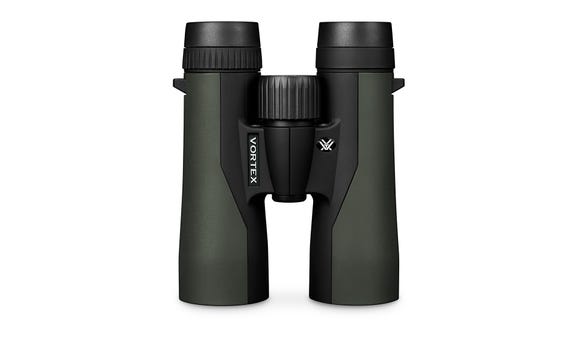 Vortex Optics Crossfire HD 10x42
Bushnell
Bushnell makes quality optics and their binoculars can be a great decision for any birder, beginner or pro. This company makes it a point to use high-quality materials and always cares about attention to detail. Bushnell optics are assembled in America with parts from other countries. A great entry-level pair of binoculars is the Bushnell Legend Series. These will run at right around $150 and offer an excellent field of view and clarity for birders. These binoculars are made for the birder who is looking for quality at an affordable price.
Let's go over some pros and cons of the Bushnell Legend Series based on customer reviews. Some of the advantages of Bushnell over competitors are affordability (while still being high-quality), a solid warranty, an expansive range of products, and a reputable brand name. Some of the disadvantages are the eye relief not being that good for those with glasses, some have come with screws that are not tightened down well, and some have had problems with the way these perform in direct sunlight. Overall, these are excellent binoculars for the money and will serve every birder well!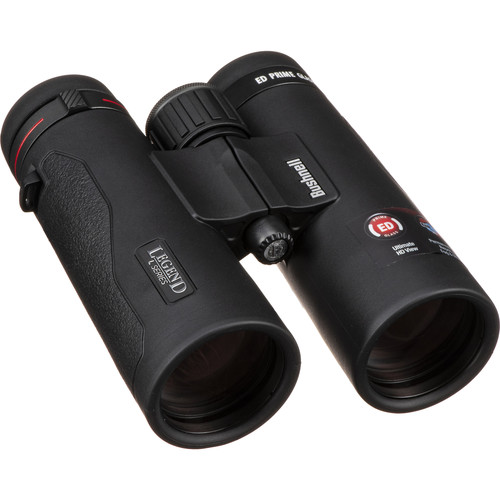 Bushnell Legend L-Series 10×42
Steiner
Steiner optics are made in Greeley, Colorado, and are engineered by German design. These are top-notch binoculars and are probably some of the best in the world. If you're not wanting to invest a good amount of money into binoculars, you probably should take a pass on this brand. The basic model suitable for birders runs for around $200 and if you want higher quality, you can get into the $1,000's. Steiner optics are made for bird-watchers who want the ultimate in German engineering, design, and looks.
Some of the advantages based on user reviews are perfect clarity, great fit and finish, and their lightweight and easy to use. A couple of disadvantages that are mentioned are sometimes being hard to get focused and one user's pair even fogged up internally from humidity. Steiners are among the best optics brands in the world and provide excellent quality for those willing to spend the money.
Steiner Peregrine 8×42
Final Words
No matter which binoculars you pick, they will more than likely serve you well in the field. Birdwatching is a great hobby and requires minimal monetary investment. This is great news, as all you need to buy is a pair of binoculars that will serve you well for years. Hopefully, this review helps you choose on what brand of optic you want to buy so that you can enjoy birding even more!